The regional and remote housing market in Australia has always been a bit different.
The factors going into what makes a region tick can be quite small in comparison to the major capital cities. And in that way, it's more predictable; major project here, big company moving in there, minerals found over there etc.
So, when it's hot, it can get boiling.  And right now, the Katherine market is on fire! And we're the number one agency in Katherine with the two top Agents by sale volume and by sales amount; Ashleigh Chadwick and Alison Ross are the best in the business!
But what's more exciting is how hot the market really is in Katherine. According to CoreLogic, Katherine is now the number one place in the Northern Territory for both sales price increase and rental increase!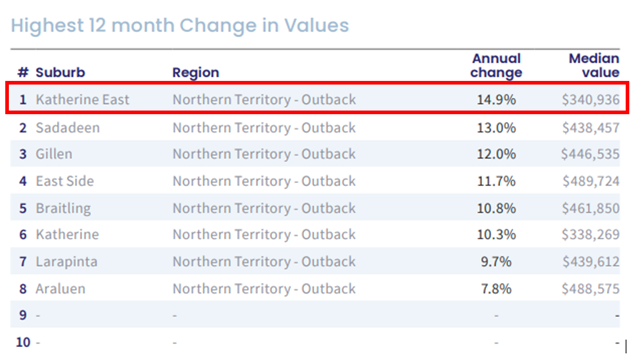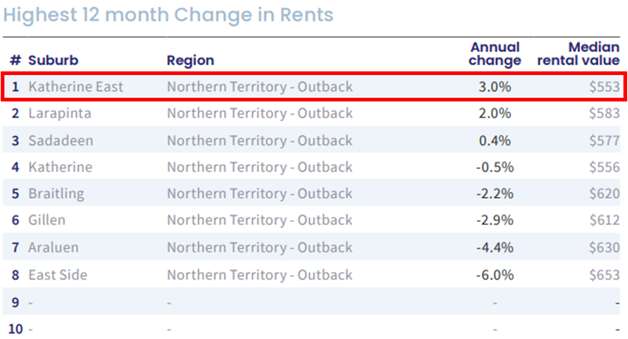 It's not often you get both at the same time, but that's how we roll here in Katherine.  This would normally lead to rental yield downside, but actually Katherine is still the highest rental yield in the NT at a mouth-watering 8.9%.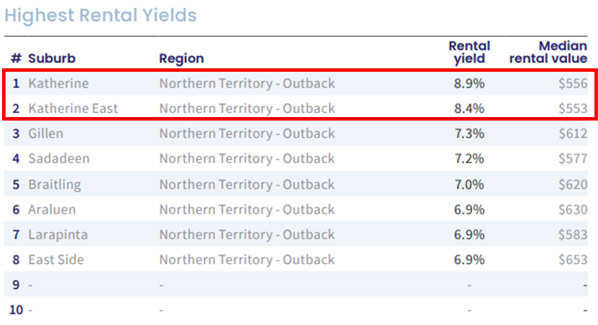 With the median price of a property still so low in Katherine, this is the ideal place to invest.
Major Projects in the region
RAAF Base Tindal & Tourism
And things in Katherine will only likely go up with the major projects occurring at RAAF Base Tindal and the huge increase in domestic tourism.
In 2020, The Prime Minister announced a $1.1 billion program of works at RAAF Base Tindal, on top of the $495 million already invested in New Air Combat Capability infrastructure. This will create over 300 jobs in the construction phase alone. You can read the Media Release here and you can see the full details here.
Mt Bundy Gold Project
Not only that, in January 2022, the Mt Bundy Gold Project was awarded major project status by the NT Government, which could bring $1.78 billion in operating expenditure over its life to the region. Construction work is expected to create 150 jobs over 18 months and the mine operations are likely to require 300 full-time workers for about 10 years. More on that here.
Sun Cable Solar Farm
In addition, Sun Cable's  $22 billion plans to build the world's largest solar farm was awarded federal major project status in 2020, and will be located outside Elliot, approximately 370kms from Katherine. More here.
But let's temper our excitement; the rapidly rising sales and rental prices is putting huge pressure on other industries.  The housing shortage in Katherine should be the trigger for developers to create more housing for the area. You can read more about that here.
This is the trifecta where it's the best time to buy, sell or invest into Katherine and our Elders team are the best people to make that happen for you.
Get in touch
Drop in and chat to one of our team when you're next in town; we're on First Street in the heart of the CBD. Or give us a call on 08 8972 3692 – we'll happily help you out.